An Overview of Cloud Mining
One of the fastest-growing investment opportunities in recent years has been cryptocurrency. With its growth in popularity, demand for mining equipment has grown as more and more people show an interest in mining cryptocurrency, including Bitcoin.
There are several approaches to mining, including solo mining, pool mining, and cloud mining. The first and second are similar. they involve doing your own mining using computer hardware and software. For beginners, there are risks and the barriers to entry are high for those who lack knowledge in cryptocurrency mining.
The third approach, however, involves leasing what is called hash power for a share in mining profits. This is easy to get started and a lot less effort than going to the trouble of purchasing the necessary computer equipment and incurring extensive electricity charges.
Cloud mining is particularly attractive as a passive income opportunity as you can leave the substantial computing and electricity charges, and associated risks, to others. What this allows you to do is lease cloud computing power over short periods for a share in the profits generated. As the contract periods are short, and the rates of return are high, you can quickly regain your seed capital.
My pick in the cloud mining space is HappyMiner. I'm attracted to it for a number of reasons, including the simplicity of its contracts, good reputation and range of fixed-term mining contracts, with earnings paid to account daily. For the adventurous who are willing to take the risks associated with cryptocurrencies, this mining operator deserves serious consideration. Hence my question: is HappyMiner a passive income opportunity too good to be missed?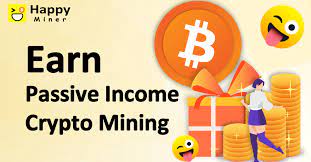 About HappyMiner
HappyMiner is a licensed cloud mining company founded in 2018 in the United States. It owns large industrial facilities comprising professional cryptocurrency mining rigs with Data Centres located in Iceland, Norway, and Canada. The use of power from renewable sources is an additional plus point, given the large amounts of  electricity these plants consume. 
HappyMiner runs a simple contract arrangement insofar as you pay for a share in the profits generated by one of its mining solutions. The cost of entry is low, with an additional incentive for new subscribers.
HappyMiner registration process only requires users to enter their email addresses and create a password. Once registered, users can start mining immediately. Read on to discover how.
When you sign up to Happy Miner, it is free and you will receive a $10 gift which can be used to buy a day primary mining contract which pays 8%. The perk does not cease there. You can then reinvest this amount daily until you reach the withdrawal limit of $100.
If daily contract renewal sounds like too much work for you, there are a range of other fixed term contracts. These short term contracts start at $100 for Bitcoin, while its longer term contracts for Litecoin, Bitcoin Cash, Dogecoin, Dash and Filecoin cost progressively more.
The range of mining packages available at time of writing (April 2023), are shown in the table below…
| | | | |
| --- | --- | --- | --- |
| Contract Price | Contract Terms | Fixed Return | Daily Rate |
| $10 [Primary Mining] | 1 Day | $10+$0.8 | 8% |
| $100 [Bitcoin] | 3 Days | $100+$4.5 | 1.5% |
| $500  [Litecoin] | 7 Days | $500+$63 | 1.8% |
| $1,200 [Bitcoin Cash] | 15 Days | $1,200+$345 | 1.92% |
| $3,000  [Dogecoin] | 30 Days | $3,000+$1,890 | 2.1% |
| $6,400 [Dashcoin] | 60 Days | $6,400+$8,880 | 2.31% |
| $9,600 [Filecoin] | 90 Days | $9,600 + $20,044 | 2.32% |
Affiliates can earn up to 4.5% referral commission by promoting HappyMiner to others, simply by sharing their unique referral links on social media, websites, or other online platforms. For example:
If your downline buys a $6400 package, you earn 4.5%
If your downline buys a $100 package, you earn 0.5%
Referral rewards differ for each package; please refer to the details on the website.
Concluding Remarks
HappyMiner provides consistent daily payouts for each contract in your choice of cryptocurrency. At the time of writing, there are over 2,800 thousand individuals from around the globe earning cryptocurrency on HappyMiner, and more than $369 million has been paid out in withdrawals. 
With a leased-hash model, you can rent hash power from HappyMiner's powerful mining equipment and associated facilities using renewable energy resources. Mining in the cloud has every appearance of being a strong contender for the future of digital money, and provides promise of substantial returns in a range of popular cryptocurrencies.
As HappyMiner provides daily payouts for each contract in its range of cryptocurrencies, cloud mining is a low risk, affordable and profitable business opportunity. Your profit will depend upon the investment amount and selected contract.
If you are considering using cloud mining to generate income, I recommend you do your research and understand the risks involved before making your decision. However, if you are looking for regular passive income in cryptocurrency from a trusted certified hash provider, HappyMiner is a great choice as you can mitigate many of the inherent risks of cryptocurrency mining using its fixed term, low cost contracts.
You can register your account by clicking on the image below. If you wish to earn affiliate income, there is no need for deposit to promote HappyMiner. However, please note that commission payments are only applicable on the mining packages of $100 and above. They do not apply to the $10 package.

Finally, I encourage all readers to engage with the blog article. If you have any questions, comments or suggestions, please raise them in the comments section below and I will respond to you. 
All the very best,
Will